The College of Design has three Universal Laser System laser cutters available in Leazar Hall 220A, next to the Materials Lab. The laser cutters are available for College of Design students, faculty and staff only. Laser cutters provide precise cutting and engraving on a variety of materials.
Reserving Laser Cutters at the College of Design is online and accessed by any web browser.
After certification, if you have any issues related to the the laser cutter machines, computers, or reservation process, you may report your issues on the Laser Cutter Reporting Problems Form.
---
RESERVATION POLICIES
Laser cutter reservations are limited to 1-hour slots with a limit of two consecutive slots (2 hours total) per user. Users violating this policy could be subject to the loss of laser cutter access. Please be considerate of other users and spread your time slots over several days if you need more than two hours. Do not create recurring reservations.
Reservations are held for 15 minutes past the beginning time.
If you do not show up on time, someone else may take your time slot.
Users MUST reserve a time slot prior to going to work on a laser cutter. USERS WITH RESERVED APPOINTMENTS HAVE PRIORITY. Reservation conflicts should be reported to Materials Lab staff when they occur. If after hours, users may report the problem using the contact form here.
---
Below are instructions on using the laser cutter reservation calendars.
1] Open a web browser and ensure you are signed into your NCSU Google account. The reservation calendars are not available using non-NCSU accounts.
2] Go to the desired laser cutter reservation calendar:
3] A "blank" time slot means that the slot has been reserved by another user. Users are unable to view other users' time slots.

4] Once you have selected a time slot, it will appear on your NCSU Google Calendar. If you do not immediately see it on your calendar, refresh your calendar page and double check the time slot time.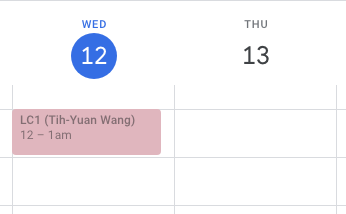 5] To cancel a reservation, switch to your NCSU Goggle Calendar, rather than the laser cutter reservation calendar, then you may remove the event from your own calendar by deleting the event there. Open the even and use the "trash can" icon from your calendar. Looking back at the laser cutter appointment reservation calendar, the time slot will return to being available on the laser cutter calendar. If you do not immediately see the change, refresh the laser cutter reservation page.

If you have trouble, please contact the College of Design IT staff in Brooks 202-204 for help.
If you have a laptop you need help with, bring it with you. You can also send an email to design_help@ncsu.edu or use this form to contact the College Information Technology staff with specific information about your problem.