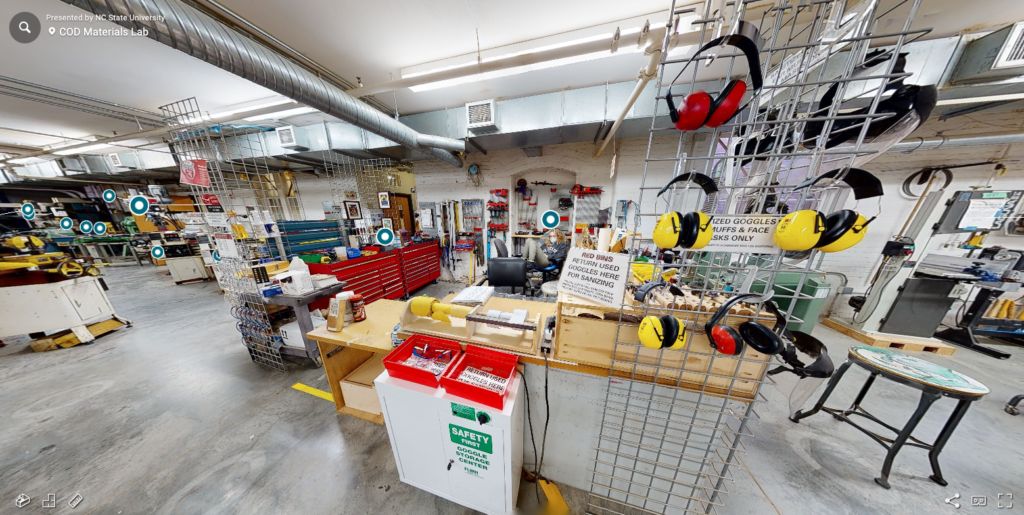 There is a variety of equipment available for faculty and student use found at the Materials Lab – this information list is constantly being updated.
Students must take an introduction shop orientation course about the Materials Lab to gain access to the equipment and resources. For some equipment such as the CNC Machines you will need to work directly with a full-time staff member in order to operate the equipment. For access to the laser cutters a separate orientation and certification process is required for access and use. Some equipment can be directly checked out from the main checkout desk for a short period of time.
If at anytime you have a question about shop equipment and/or shop safety please reach out to a shop lab attendant or ask one of the full-time staff for help!

| | |
| --- | --- |
| Sand Blaster | Spray Booth |
| 10″ SawStop Table Saws | CNC Plasma Cutter |
| Omax ProtoMAX CNC Water Jet Cutter | 686 Vacuum Former – 24″ x 24″ |
|   |   |
|   |   |
|   |   |
14″ band saws
6″ belt sander
20″ disc sander
Oscillating spindle sander
5″ x 10″ panel saw
Sliding compound miter saws
12″ wood lathe
16″ drill presses
6″ scroll saw
4 x 8 CNC Router
2 x 4 Axiom CNC Router
13″ machine lathes
Vertical knee mills
Bridgeport CNC vertical knee mill
Southwest Industries CNC vertical bed mill
17″ drill press
8″ surface grinder
52″ foot sheer
32″ foot sheer
24″ slip roller
36″ slip roller
48″ magnetic finger brake
30″ mechanical finger brake
30″ bar brake
72″ sheet metal brake
Horizontal metal cutting band saw
Tinsmithing hammers and anvils
Hossfield metal bender
Hydraulic tubing bender
Pullmax metal former
Plasma cutters
Oxygen/Acetylene torch
Spot welder
2.5 cu in oven
2.5 cu in kiln