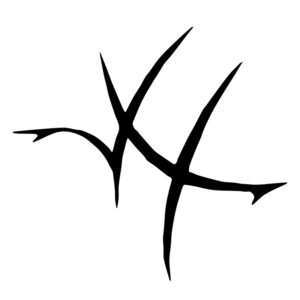 "Safe passage along your chosen route, through misty(c) wonders brought about, where once upon you thought was done, your life! is by your own hand won."  This is a sigil that I drew for Omen.  We've been painting it on our faces upon the Mourning Hill. (read some more about this below.)
There's so much to share with you, so much about which to tell you.  I'm back where I used to live in the heart of Western NC's Big Ivy swath of the Appalachian Mountain Range, at a place called The Hawk and Hawthorne (formerly The Hawk and Ivy, which has a better lyrical cadence if you ask me, but I digress…)
This year, there are 13-ish (right now 14 including me) residents at any given time.
Formerly Barnardsville's best bed and breakfast, this ~25 acre permaculture paradise presently hosts a performance art installation of which I am an acting part.  Omen, an immersive experiential interpretation of the nursery rhyme Who Killed Cock Robin?  My role in this affair is to conjure and tend a warming fire, and guide the dead back to life, or elsewhere if they desire…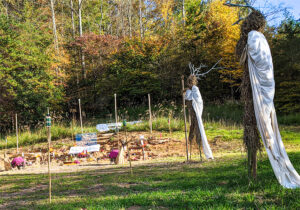 Opening weekend was a huge success, so much so that the production has had to extend several additional nights due to ticket sellout.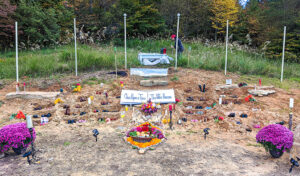 Yes, we're COVID-19-safety-protocol observant, and I will reveal more about this performance and capture more images over the subsequent weeks.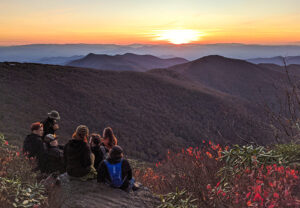 We have also had several birthdays this week, as happens with a family numbering 14.  The scene Sunday evening celebrating Danny "Chops Rodriguez"'s 32nd saw a special group of us cackling and fawning over the sunset, poised at the edge of a cliff up on Craggy Pinnacle.  I think this scene's sweetness speaks for itself.  I haven't been here since June, and was welcomed back with big hugs and lots of love.  It has given me a life anew.
Finally, I made myself a new cell phone background.  It's called SpaceHorse (one of my monickers here is "Horse", and I'll tell you about that another time.)  The artwork is taken from Nick Sullo's repertoire (a friend of mine sent me the image he had used for a collage, so I don't have the direct link, I think maybe it came from The Gram? but here's Sullo's Website. It might seem like an inconsequential thing to share in a blog post, but it represents a the firm establishment of a new chapter, and I'm in love with it.