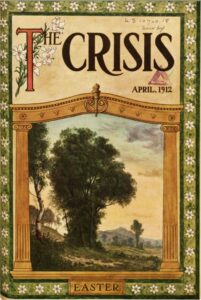 I'm thinking about marginality!! Specifically, the ways black designers and their work have been historically marginalized. Though, through the efforts of many incredible design historians, that history is being uncovered and centered. The Crisis is one of those hidden things that I've learned about recently. 
The Crisis is a quarterly magazine that was published by the NAACP in 1910. It is the oldest black publication that largely discussed racial justice and created a space for black writers, designers, artists, etc. to share their work: it was"a record of the darker races" Du Bois.
Several of the publication's covers were deeply inspired by Jungenstil aesthetics; a design style that was ubiquitous during the Harlem Renaissance. It often featured floral ornamentation, geometric/flatforms, and fluid lines. In the image above, the artist and designer crafted a cover that reflects Jugenstil's design language. For example, the 1912 Easter cover includes a historiated capital 'T' and plenty of delicate floral embellishments. I love returning to these covers because they are beautiful, but also because of their cultural importance and their resonance in Black design history.