A mixed group of design graduate students attended the First Friday Gallery Walk at Port of Raleigh for the preview show of Ideal Space. The full exhibition will be on view at the North Carolina Museum of Art from January 6th to the 25th. The following is a description of the show that ten ID students collaborated on:
"Ideal Space is an installation exhibit consisting of products that viewers can interact within a tactile and thoughtful way. The whole exhibit and its contents are designed, built, promoted, and curated by a small group of NCSU College of Design students.
The theme of the installation is "Home", so each designer/ group of designers will be able to interpret this differently within their space. Overall this show is a way for us as young designers to step out of our academic curriculum and explore more interactive ideas of design. As students, it's hard to share our work outside of class so having an event like this would serve as an amazing opportunity, as well as the chance to connect different groups within the local North Carolina design community."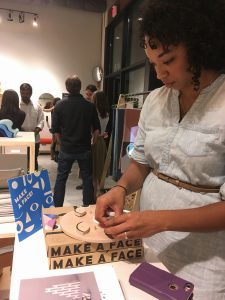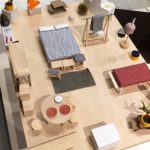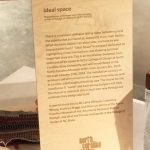 I was informed about this show through an Industrial design group member from my seminar class. The Design Research Methods Seminar is the first class at NCSU where I've worked in an integrated classroom setting comprised of both graphic and industrial design graduate students. This classroom has helped me reflect on the significance of bringing together students of different disciplines.
Attending this show was a great experience because I had an opportunity to discuss the different ideas and interests that my industrial design classmates were pursuing (outside of the academic curriculum). It was inspiring to see that they're setting aside time to share their work with the larger community. I find that an integrated studio or classroom experience also fosters a higher respect and understanding of other design disciplines. Through engaging in rich collaborations and discussions in seminar, I've been thinking about the following questions:
What are some of the hybrid opportunities that may arise for students when design educators seek to include multidisciplinary and interdisciplinary studios in the design curriculum?
What is the difference between collaborating and an integrated design studio model?