202A Brooks Hall Maker Space
The Bayley Information Technology Laboratory provides multiple 3D printers for making models, prototypes and physical artifacts. Users must plan ahead to use these printers, as the time required to process files can take hours or days. File(s) must be submitted online with the appropriate staff member or with a lab attendant in the main Checkout Window in the Brooks 203 IT Lab during its normal business hours. Contact one of the Full Time staff members for consultation/assistance.
Direct access to the 3D printers is not available to users. Please plan ahead. You may be able to print directly to the MakerBot Sketch 3D printers in the hybrid computer clusters or access the Ender 3 V2 Pro 3D printers in Lampe Digital Fabrication Studio.
Fill out the Request 3D Printing Service Form to have your file(s) processed for 3D printing in the lab.
Please review our Filament Guideline for 3D Printing.
Brooks Hall, Room 202A – Maker Space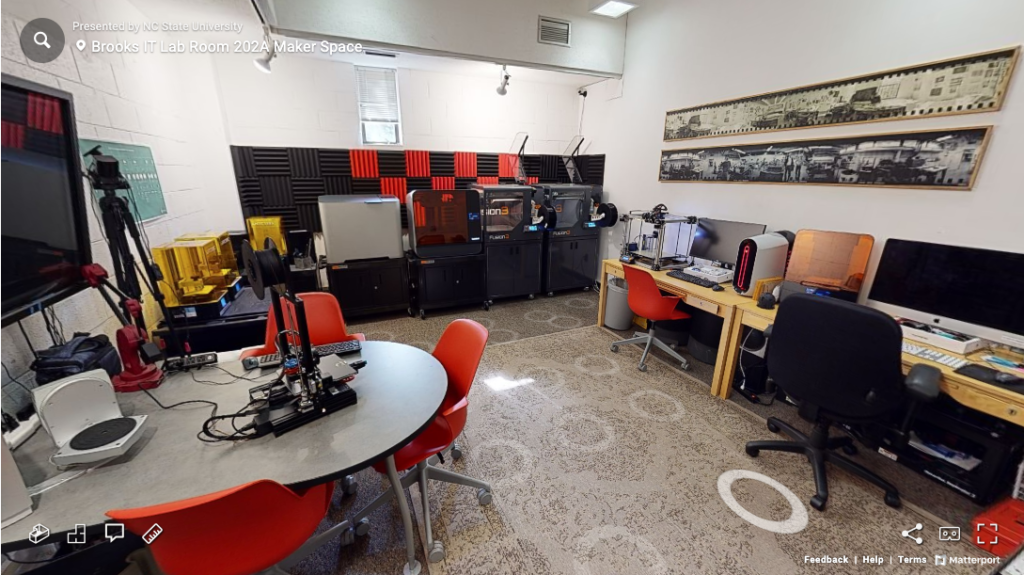 General 3D Model and Printer Notes
College of Design 3D printers are only available for College of Design students, faculty, and staff. Students must be a current Design major, minor, or currently registered for a Design course.
Price for Formlabs resin printing:

$0.30/mL (White, Draft, Clear, Flexible)
Price for third-party brand resin printing:

$0.15/mL (White, Grey, Draft)

 

Price for PLA/PETG filament:

$0.45/g (Primarily: Black, White, Grey)
Price for P430 ABSplus (Ivory) Mojo printing:

Materials fee:$5.00/cubic inch

Required build plate fee: $4.00 each
An accurate volume, build cost, and build time estimate can only be provided once the model file is processed – Please note we no longer print with bulk ABS filament.
Plan at least a few days, if not a week, in advance to take into account the build time, post-processing clean up, assembly, painting and possible delays.
STL files can only be used for 3D printers
(Note: STL files do not contain color or image texture maps).
Pre-scale models so that wall thicknesses can be adjusted independent of overall scale.
Be sure to check the units (ideally mm) used during STL export and approximate finished build size (scaled) in XYZ.
Available 3D Printers
Formlabs Form 2
Builds Size:
140 mm × 140 mm × 170 mm
5.7 in × 5.7 in × 6.9 in
Formlabs Form 3
Build Size:
140 mm × 140 mm × 180 mm
5.7 in × 5.7 in × 7.3 in
Formlabs Form 3L
Build Size:
330 mm × 200 mm × 300 mm
13.2 in × 7.9 in × 11.8 in
Ender 3 V2/Pro
Build Size:
220 mm × 220 mm × 300 mm
11.5 in x 11.5 in x 11.5 in
Fusion3 F400
Build Size:
350 mm x 350 mm x 300 mm
14 in × 14 in × 12 in
Fusion3 F410
Build Size:
350 mm x 350 mm x 300 mm
14 in x14 in x 12 in
Stratasys Mojo
Build Size:
125 mm x 125 mm x 125 mm
5 in x 5 in x 5 in
If you have questions, please contact the College of Design IT staff in Brooks 202-204 for help. If you have a laptop you need help with, bring it with you. You can also send an email to design_help@ncsu.edu or use this form to contact the College Information Technology staff with specific information about your problem.