Video Conferencing Software
Many video conferencing services are available free of charge.
Video Conferencing Hardware Systems – AVer VC520 video conferencing systems are installed in the following College of Design rooms
Brooks 125
Brooks 200D
Brooks 212F
Brooks 317
Brooks Rotunda
Kamphoefner G10 (Allred Gallery)
Kamphoefner 130
Kamphoefner 202
Kamphoefner 303
Leazar 102
Leazar 312
111 Lampe Drive 101
111 Lampe Drive 120A
111 Lampe Drive 120B
111 Lampe Drive 122
111 Lampe Drive 123
111 Lampe Drive 136
Users should set up and test the conferencing systems prior to their actual video conference call.
These installed systems work with almost any video conferencing software, such as Skype, Google Hangouts, Zoom, WebEx, GoToMeeting, etc. Users only need to connect one USB cable to their computer (already installed on the computers in the Digital Critique Spaces) and select the correct video and audio sources in the conferencing software they are using.
Scroll down to see instructions for using the remote control and pre-set camera positions. 
Place the round speakerphone(s) near the center of the group of people. There are volume controls on top of the speakerphone and on the remote control. 
Instructions for Setting Conferencing Software to Use AVer VC520 for Video and Audio
Each particular video conferencing software varies in the way the users select the appropriate video and audio sources. Normally, users will go to the application preferences and select VC520 as the video source, microphone source, and speaker source. Some video conferencing applications will identify the audio sources as Echo Cancelling Speakerphone. In either case, applications provide a way to test each source. Below are some example screenshots for Zoom, Skype and Google Hangouts. Other conferencing applications will use similar settings.
Zoom
Open your Zoom session and go to the Settings menu.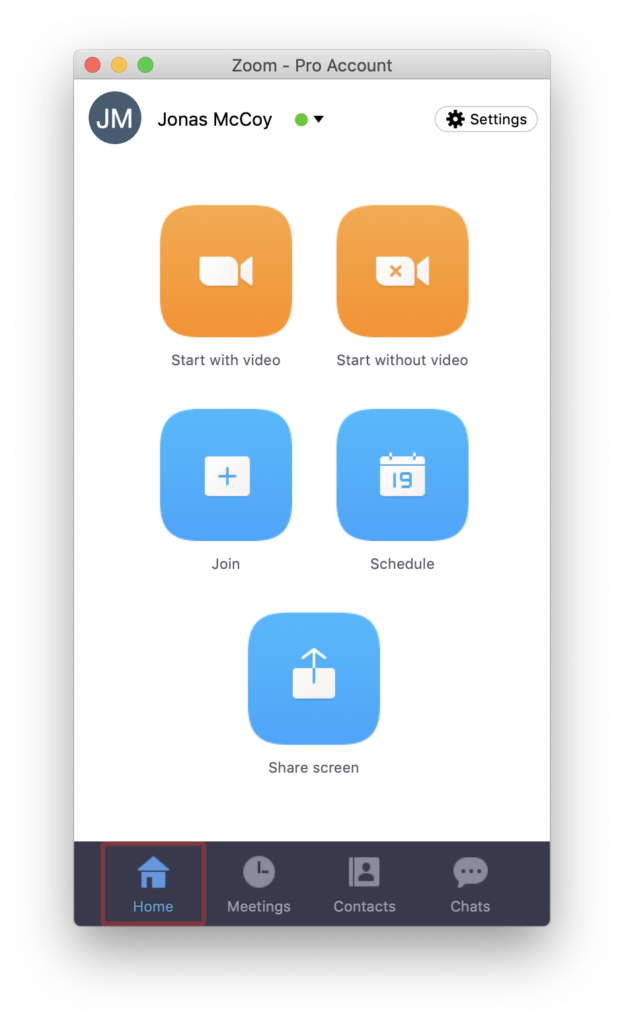 Under both the Speaker and Microphone sections, select VC520 in the pop-up menus.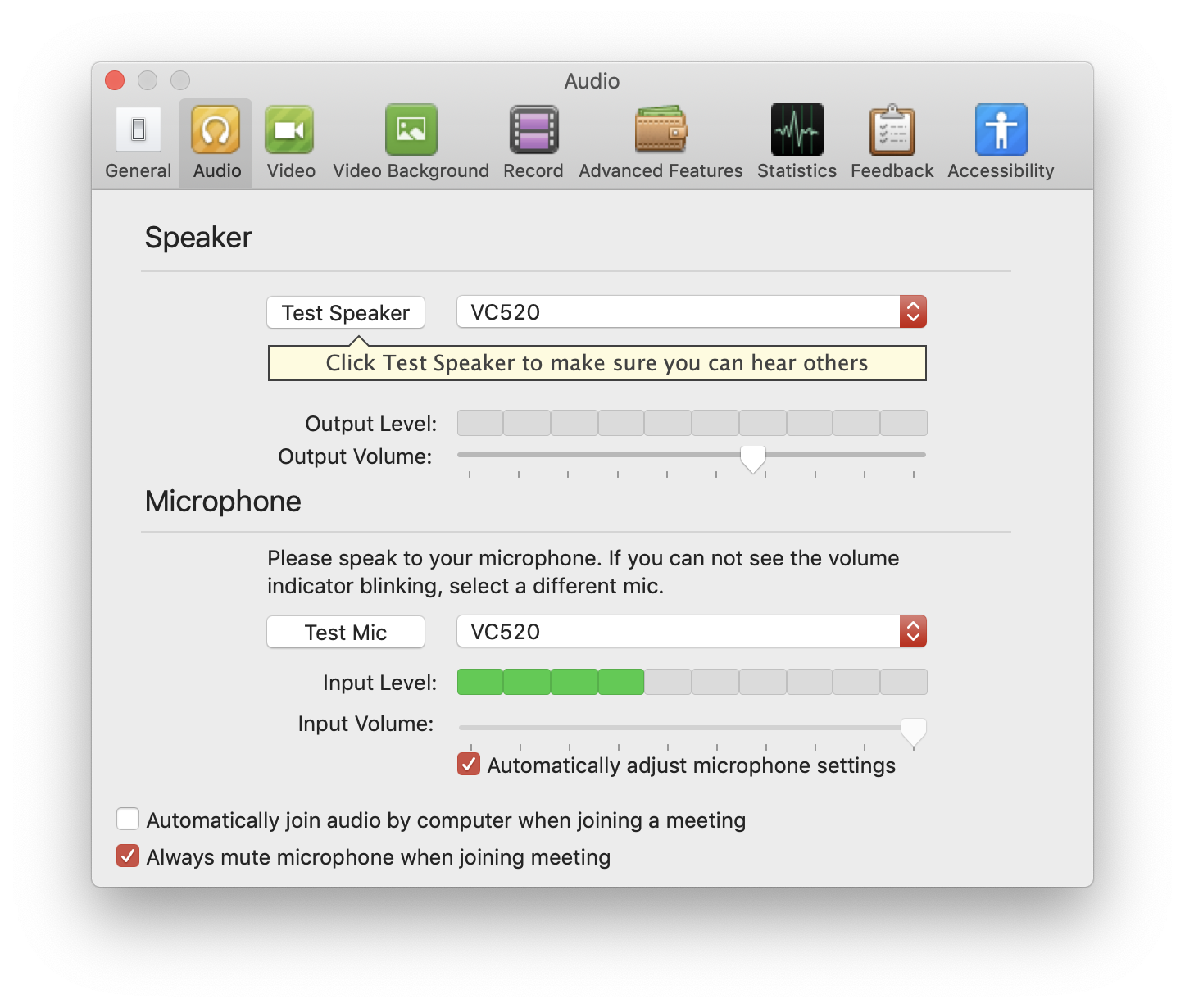 Next, select the Video tab and select VC520 in the Camera pop-up menu.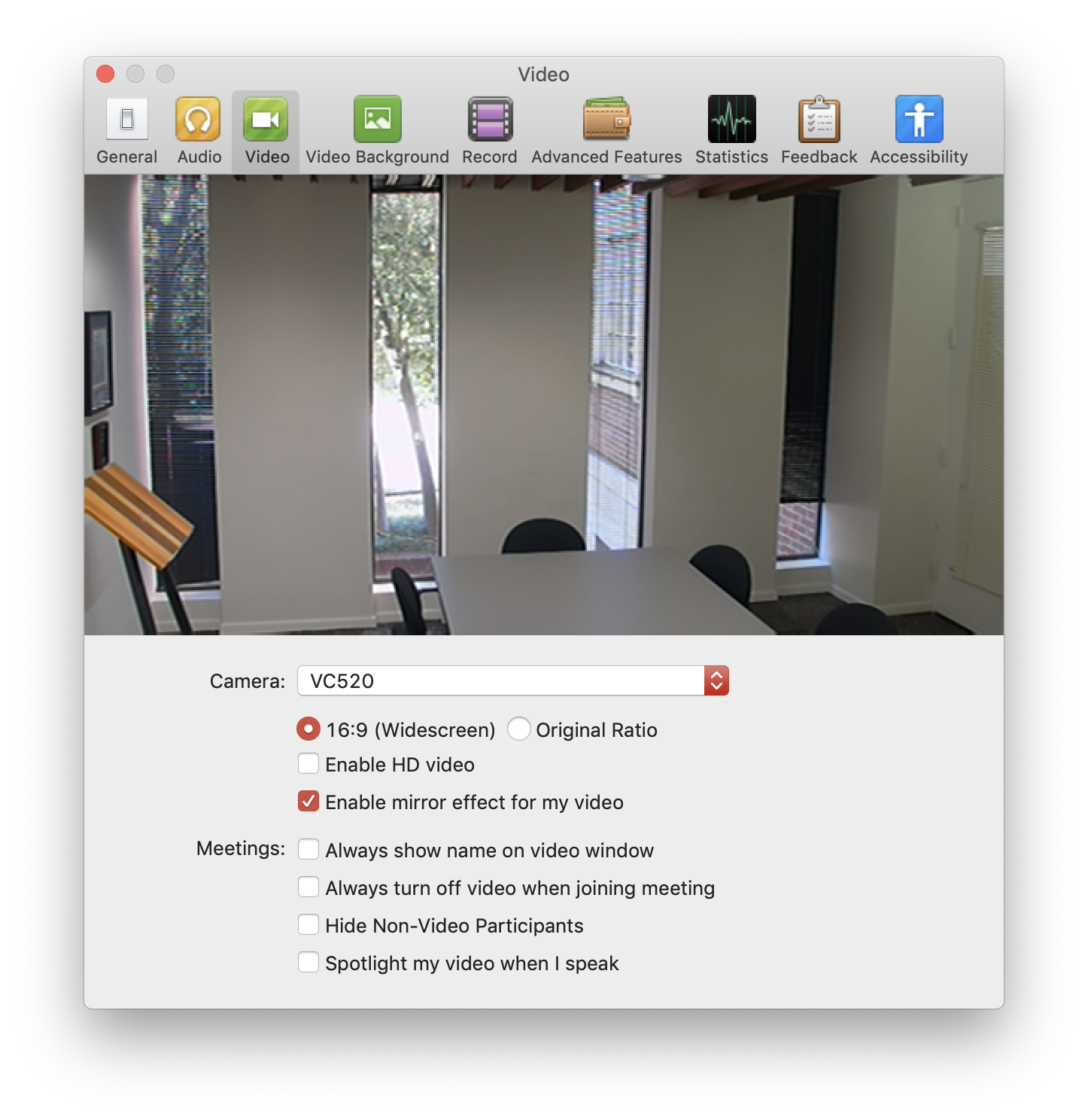 Skype for Macintosh

Go to the Skype menu, then Preferences. then the Audio/Video tab.
Microphone, Ringing, Speakers and Camera should all be set to VC520.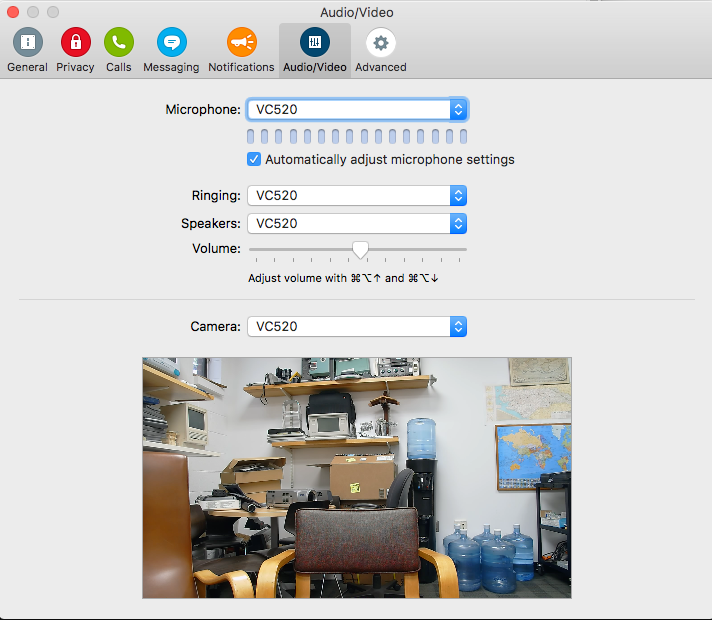 Skype for Windows 10

Go to the Options panel.
Under Audio Device, select Speaker Phone VC520 for Speaker and Microphone.
Select Echo Cancelling Speakerphone (VC520) for Ringer.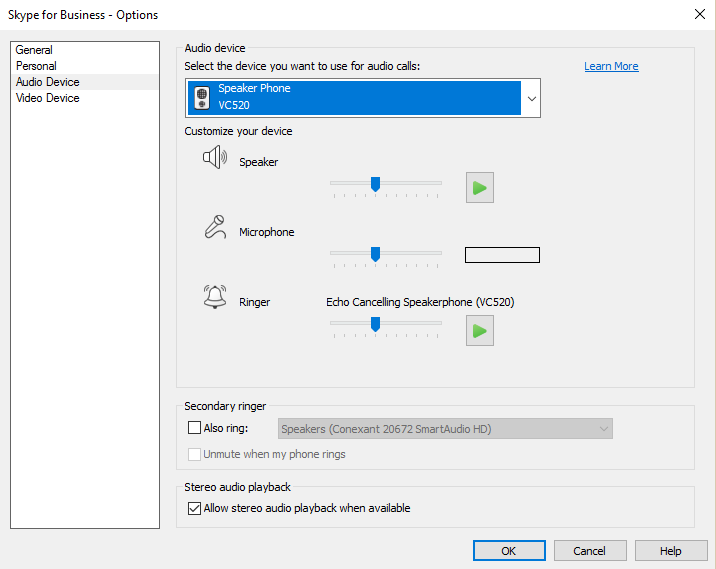 Under Video Device, select VC520 as the Camera.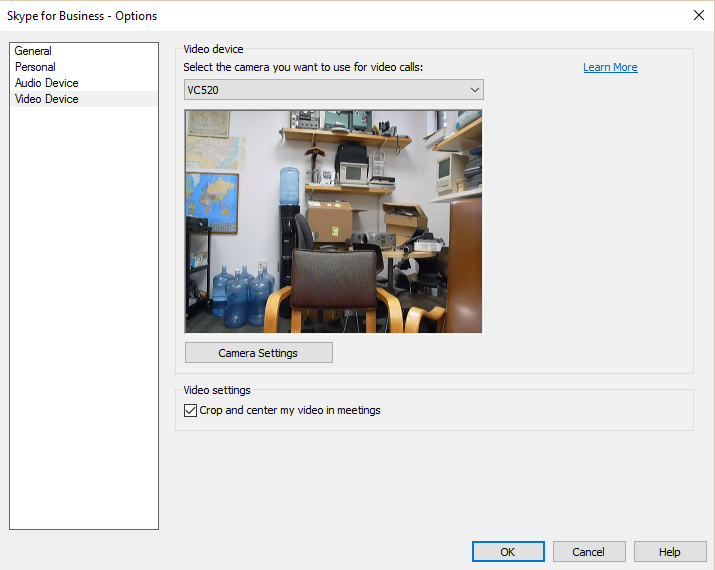 Google Hangouts for Macintosh
Go to the gear/Settings menu.

Camera, Microphone, and Speakers should all be set to VC520.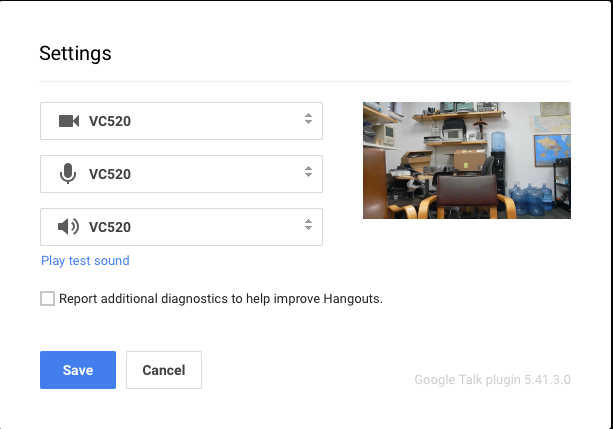 Google Hangouts for Windows
Go to the gear/Settings menu.

Camera should be set to VC520.
Microphone and Speakers should both be set to Echo Cancelling Speakerphone (VC520)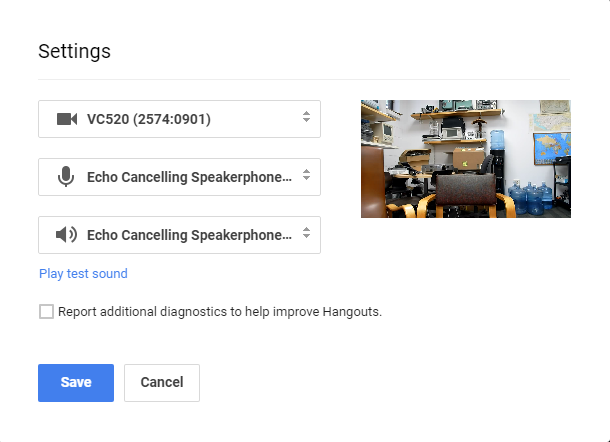 Remote Control the Camera
Use the remote control to select pre-set camera positions. Or use the "P" key, then a number key to select a pre-set camera position. (Some cameras only have a few pre-set positions. Not all number keys are active.)
The camera uses automatic focus.

If you have trouble, please contact the College of Design IT staff in Brooks 202-204 for help. If you have a laptop you need help with, bring it with you. You can also send an email to design_help@ncsu.edu or use this form to contact the College Information Technology staff with specific information about your problem.