There are multiple MakerBot Sketch 3D printers located in the hybrid computer clusters. These are available for student printing of .stl mesh models on a first come, first serve basis.
You need to have signed up for the MakerBot Sketch online training on Reporter in order to use these printers and access the cloud based software for 3D printing access – Fall 2023 Session should be active on August 25th, 2023 @ 3pm.
For 3D printing on the printer you must reserve/checkout a flexible build plate from the main checkout office in 202 Brooks Hall, provide your own 1.75mm PLA filament and/or use what was provided by your studio/discipline for your printing needs. In some instances, your department for your discipline has pre-purchased material for use on these MakerBot Sketch 3D printers and can be handed out to you when you checkout the build plate – color availability may vary.
The MakerBot Sketch works very well for printing medium sized architecture mass models, smaller assembly parts and models as well as form study parts before final printing to another medium or on a larger/faster 3D printer. Recommended basic print settings with a minimum infill of 15% should be used since printing on the Sketch printer can take more time than the industrial 3D printers in the main lab. The maximum model build size is 220mm x 200mm x 250mm or 8.66in x 7.87in x 9.84in. The MakerBot Sketch uses the same filament medium to print the support matrix for your .stl mesh models – depending on your model orientation you may find that the support matrix may be difficult to remove in post production/cleanup.
BUILD PLATE
(Required: FLEXIBLE BUILD PLATE)
You are required to use a Flexible Build Plate in order to print on the machine.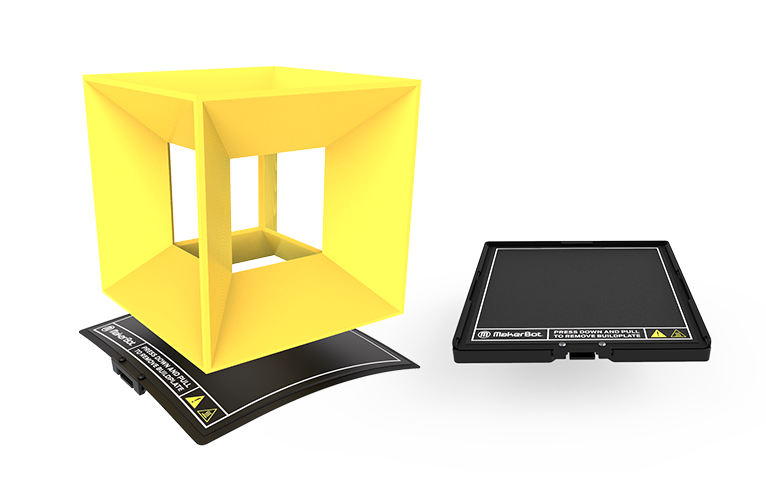 Failure to properly utilize and insert the Flexible Build Plate can result in a print failure and/or damage to the printer. Printing directly on the heated bed will damage the printer and result in a print failure. Please reserve/check out a Flexible Build Plate from the main checkout office before attempting to print to the MakerBot Sketch 3D Printer.
FILAMENT
(Recommended: PLA ONLY)
MakerBot Sketch 3D Printers is only optimized to utilize PLA bulk roll filament that is 1.75mm diameter; the following listed brands have been tested to work with consistent prints on the MakerBot Sketch 3D Printer – attempting to use a non-tested brand of filament with improper print settings can result in print failure and/or damage to the print extruder.
MakerBot PLA, MakerBot Tough, Atomic Filament PLA, Hatchbox PLA, Overture PLA
PRINTING SPECS
Print Technology
Fused deposition modeling (FDM)
Build Speed
Max Print Speed: Up to 150 mm/sec
Layer Resolution
Maximum Capability: 100 – 400 microns
Print Mode tuned for:
200 microns to provide an optimal balance
of high surface quality and quick print time
Maximum Build Volume
220mm x 200mm x 250mm
[8.66in x 7.87in x 9.84in]
Supported Materials
1.75mm diameter; MakerBot PLA and Tough for SKETCH
Maximum Heated Build Plate Temperature
110C [230F]
Operating Volume
50 dB
Recommended Print Mode
Balanced
SOFTWARE SPECS
Software Bundle
MakerBot CloudPrint
File Types
MakerBot (.makerbot)
STL (.stl)
.catpart .dae .gib .iges .ipt .obj .par .sab .sat .sldprt.Thing .wrl x_t .3mf
Recommended Browser
Latest version of Chrome, Edge, Firefox, or Safari