What does CNC stand for? CNC = Computer Numeric Control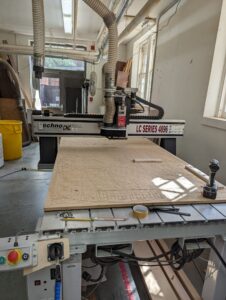 Please use the submission form here to submit your project.
Important NOTES:
> All users must have completed Shop Safety Orientation, as there is almost always pre & post-processing that must be completed by the student after machining your project.
> The CoD CNC Routers should only be used for projects for a class work, research projects, or facilities/operations projects. For personal projects, consider using the NCSU Craft Center.
> The Lampe CNCs are currently only for foam materials at this time.
UNDER NO CIRCUMSTANCES SHOULD EITHER THE LEAZAR, NOR THE LAMPE CNC ROUTERS, BE USED IN SUPPORT OF COMMERCIAL WORK (FOR PROFIT). USE OF SCHOOL RESOURCES FOR COMMERCIAL/FOR PROFIT PURPOSES WILL RESULT IN LOSS OF SHOP PRIVILEGES!
Process Constraints When Designing Your Project:
***MINIMUM CUTTER SIZE IS 1/8 INCH***
– this means this is the smallest path/crevice that can be cut between your material-anything smaller, you may have to cut further details out by hand.
> Maximum Bed size is 4' x 8' , material cannot be larger than this.
> Z depth max is 4 INCHES! Materials must be NO HIGHER than 4 inches tall or it will not be cut all the way thru.
Allowable materials: wood/engineered wood (wood glue-ups MUST BE DRY – 12 hour minimum dry time), acrylic, polycarbonate, foam, cardboard/chipboard/paper products*, PVC.
Unallowable materials: metal, glass, cement, ceramics.
** Consider using the laser cutter for faster turnaround with these product types.
For Site Models: when creating cut-outs for plug-in parts, consider that our cutters cannot make perfectly square inside corners, there will always be some remaining radius on the corners to address afterwards. (see picture- yellow represents what will remain). Also, consider making your site plug-in slightly smaller (i.e. a gap of 0.02) to allow for wiggle room for the site to slide in.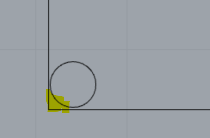 Gluing Your Materials:
It is important when gluing your materials together to make thicker slabs (i.e. glue 2x 1″ boards of MDF for a 2″ total thickness), that you paint on the glue to cover every part of the material, not just run a few dots or snake like beads. Otherwise, parts of your model may break off during machining.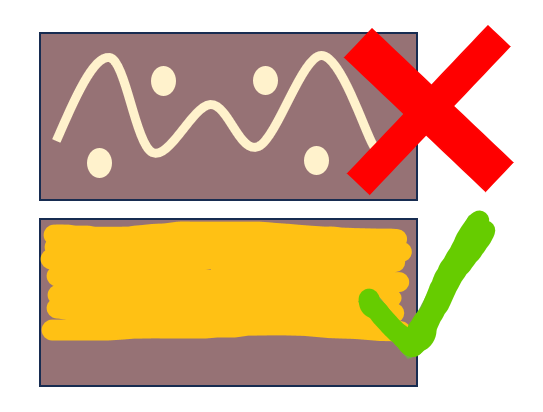 Joining the CNC Queue:
Currently, the technoCNC are run by Materials Lab Staff only (Rob Watson & Heather Durand). Students are expected to have finalized project files that require minimal tweaking from staff. If after submitting your file, staff discover that it needs additional re-working, your file may be sent back to you and your place in the queue will be passed until a reasonable file is received.
> REMEMBER staff cannot add you to the queue until material AND file are in hand.
> Staff cannot help you learn software from scratch, nor can we design your project from scratch.
CNC projects increase exponentially as the semester progresses. We will do our best to accommodate your requested date of need, but in general, the cnc queue is a first-come first-serve basis.
> PLEASE ALLOW AS MUCH TIME AS POSSIBLE FOR YOUR PROJECT.
> PLEASE NOTE: we cannot guarantee that your project will be completed by the date you request. We will do our level best, but we only have one machine and if it breaks, repairs may take time.
We will communicate machine status and queue length upon review of your project for submission and let you know if deadline is feasible or not.
Please use the submission form here to submit your project.
Book a CNC Design Consultation with Materials Lab Staff (Rob/Heather) Here.
https://go.ncsu.edu/cnc_design_consultation
General questions – please email design_cnc_info@ncsu.edu