Power Off and Turn Off the Laser Cutter System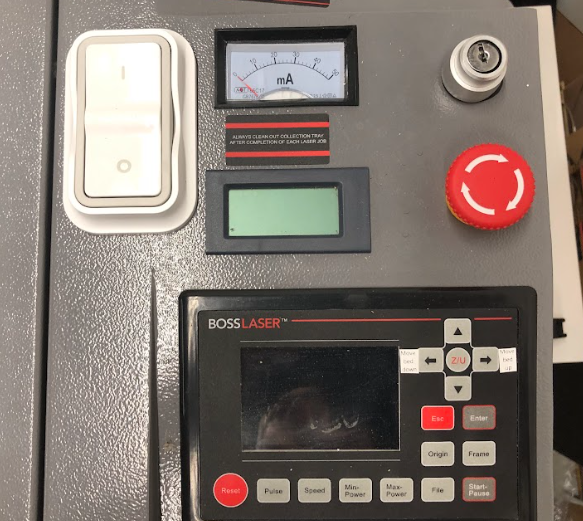 To minimize the chance of accidents and emergencies, turn off the laser machine. Turn off the Laser Cutter System by pressing the lower OFF BUTTON on the Control Pad mounted above the laser cutter LED display panel; be sure to log off of the laser cutter machine and clean up your area before you leave.
DO NOT store your working files on the machine – Please save/backup your files off of the machines or upload remotely to Google Drive/Cloud Platform as the machines are on a maintenance schedule that is automatically designed to erase and wipe clear laser cutter data files and user preferences during the week.
Lifting the Laser Cutter Bay Door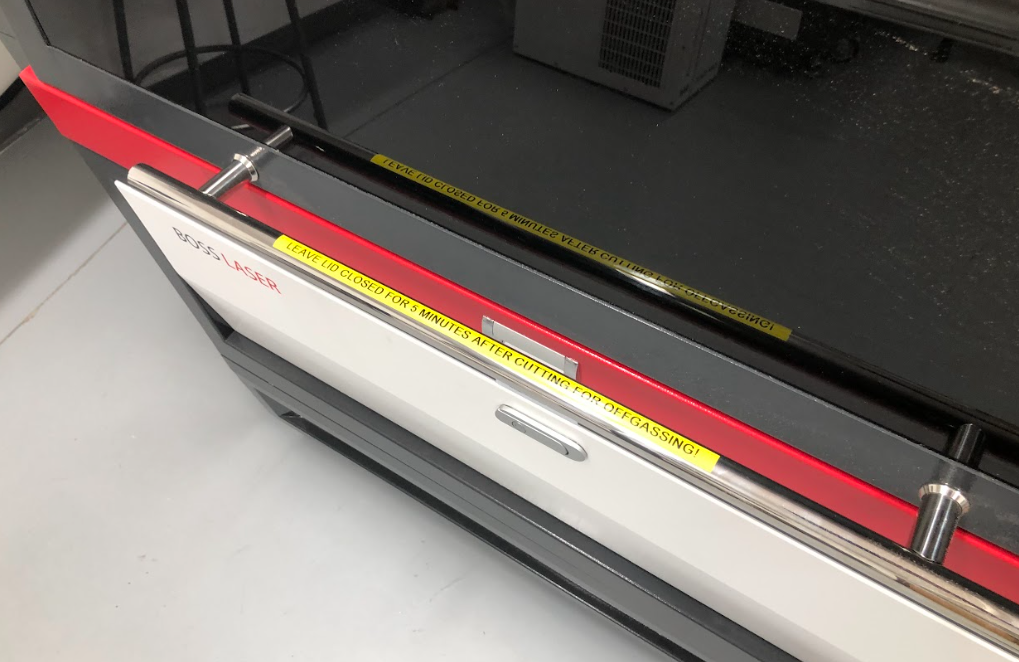 Always wait until the cutting material off gasses and the smoke clears from the cutting chamber before opening the door (approximately 3-5 minutes).

FAILURE TO WAIT COULD RESULT IN EXPOSURE TO TOXIC FUMES.
DO NOT remove material from the cutting bed before it has cooled.
ALWAYS clean up clutter, debris and flammable materials in the laser cutter after use.
NEVER LEAVE MATERIALS IN THE LASER SYSTEM AFTER LASER PROCESSING HAS FINISHED.
Always remove all material including scrap material from the machine after use. Scrap material left in the laser system including materials that collect in the removable cutting tray table can be a fire hazard. It is also recommended you allow scrap materials to cool prior to leaving the work area or disposing of it in the nearby trash/recycle bins. A properly maintained fire extinguisher should be easily in reach and on hand at all times.
Lab Space and Laser Cutter Clean Up
Clean up maintenance includes routine cleaning and emptying of the scrap tray. These procedures are performed with the machine off. These will be routinely checked by full-time staff members and/or lab attendants throughout the day; however, you should check before you start+finish your laser cutting session and empty the tray when you are finished with your laser cutting session.
Always check the laser cutter honeycomb bed for remnant pieces of material substrate after each cutting session; you need a clean, flat laser cutter honeycomb bed to allow your material substrate to sit flush against the laser cutter bed. Utilize a horse hair brush, tweezers and/or the shop vacuum to clean out any remnant pieces of material substrate before placing any new material substrate on the laser cutter bed.
Always clean up the laser cutter honeycomb bed and the laser cutter area after you cut your materials and have finished for your scheduled reservation time. Utilize the shop vacuum to clean out debris and remnant pieces of material substrate. Collect all your materials and equipment that you brought into the laser cutter area as you leave so that the next person scheduled for the laser cutter has a clean slate to start their laser cutter session.