You can always get more in-depth information from LightBurns documentation (online+PDF):
https://lightburnsoftware.com/pages/documentation(opens in new window)
Using Illustrator we can prep our vector file for use in LightBurn.
In some instances you can import your DXF vector files into a layer in order to troubleshoot any vector paths that might be problematic. Importing DXF file exported from AutoCAD helps clean up and resolve ~90% of the problems with vector cut paths
Tip – Convert all Fonts and Typography to Outlines – "Create Outline"
The process of outlining fonts is quite simple in Illustrator. Select the text with the Selection Tool > Right Click and then Select Create Outlines. You can also with the text selected, in the Main Menu go to Type > Create Outlines.
Save the project as an Illustrator file or export the project as a PDF file
Using LightBurn we can prep the vector file for the laser cutter.
Import your Illustrator/PDF into a new LightBurn document
Option 1- Setup/assign your vector paths to the appropriate Cut/Layers Speed+Power
Depending on which laser cutter you are using you may need to adjust these settings
The laser cutters in the Leazar Materials Lab are 155 Watts
so you may need to reduce your power levels
The laser cutters in the Lampe Digital Fabrication Studio and MakerSpace are 65 Watts
So you may need to increase your power levels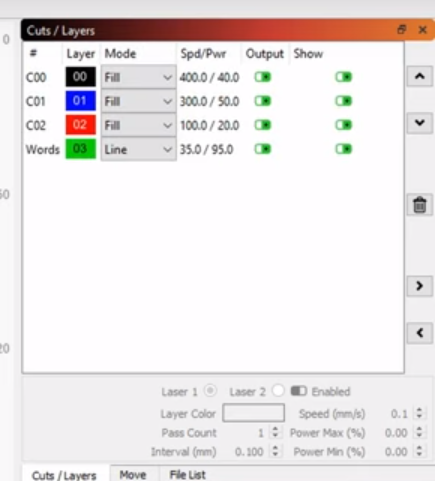 Option 2 – Setup your vector paths using recommended LightBurn Materials Library(opens in new window) settings found within the materials panel. Check with the full-time Materials Lab Staff or online for the latest Materials Library recommendations. You can also custom build your own set and save/export for use on another Boss Laser Cutter. You will have different Materials Library files depending on which laser cutter you are using;
The laser cutters in the Leazar Materials Lab are 155 Watts
The laser cutters in the Lampe Digital Fabrication Studio and MakerSpace are 65 Watts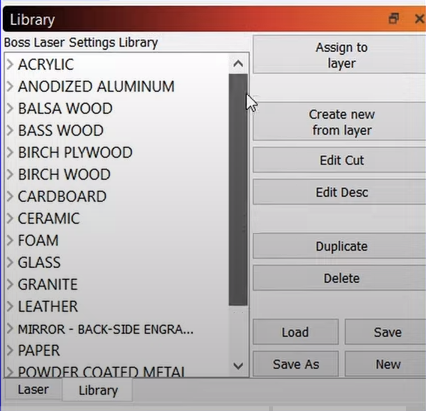 LightBurn Laser Cutter Video – Interface Demo + Quick Tips  
LightBurn Laser Cutter Video – Illustrator Demo + Quick Tips
LightBurn Laser Cutter Software (Online)
https://lightburnsoftware.com/pages/tutorials(opens in new window)